MRP
Beam Stacker
The MRP is the best solution for storage of warp beams. It is available in different execution for handling each particular situation. For example, loading and unloading can be undertaken from one position or several positions at one or different level.
It employs PLC controlled storage and retrieval of beams with a possibility to operate forward or reverse movement to ensure shortest distance for beam to travel. It helps to stop the beam at exact position. Beam details can be registered / printed for records.
| | | |
| --- | --- | --- |
| Barrel Length | from 1200 mm | to 4000 mm |
| Flange Diameter | from 500 mm | to 1250 mm |
| Weight Capacity | from 150 kg each | from 2000 kg each |
CMR
Fabric Roll Stocker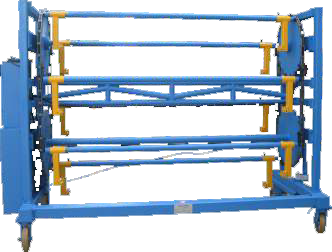 The mobile carousel storage creel CMR is the best solution for storing fabric rolls on a transportable structure with small dimensions. An electric system guarantees maximum safety and allows the rotation of the positions to facilitate the loading and unloading phases. It can be placed on the back of inspection table.
| | | |
| --- | --- | --- |
| Fabric Roll Width | from 1200 mm | to 4000 mm |
| Max. Fabric Roll Diameter | up to 400 mm | |
| Max. Weight Capacity | up to 250 kg | |